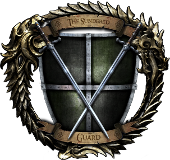 TESO officially launched with the early access today, and TSG got off to a good start with about 25 Guardsmen joining in. Get ready for some awesome pvp, lots of questing, copious amounts of naked dancing, and then come join us in Tamriel.
TSG-TESO is playing Daggerfall. We are currently guesting PvP campaigns until we find one to call home. If you're new to the guild, put in an application on the forums and we'll get you an invite in game.
Let the domination begin.